basketball personal trainer
I remember being a scrawny and appearing weak kid. One of my favorite activities was playing basketball. I could run. I could jump. However, I couldn't keep my position or hold my space because I was a scrawny, weak kid. Whenever we did strength exercises like push-ups, I sucked! I always questioned why I was not as strong as some of my classmates. My weakness limited my physicality on the court. Many kids exploited this weakness by backing me down the lane for easy layups and guarding me close, not letting me get my jump shot off. They would also guard me close, not letting me get my jump shot off. On top of all this, I was teaching my body bad habits for future athletic endeavors. Here are some reasons why basketball players should get personal training [if you're injured and need a rehab staff for basketball, click here].
If you really want to build a long-term basketball plan for success, get our free youth sports guide
Basketball Personal Trainer Case Study
I remember in 7th grade playing against the 8th graders. I was no match for the 8th graders who were two heads taller and 50 pounds heavier than me. I remember one game vividly. I dove for the ball and wrestled for possession. I was swung around and ended up 10 yards from the ball! 
Basketball requires coordination, speed, strength, and endurance. If you struggle in one of these categories, it is likely you struggle in all of these categories. One study performed pre-testing of strength on a basketball and identified the weakness player on the team. This study found significant strength gains and improvements in lean body with a six-month off-season training program (Fulton, 1992). The program was done 4 days a week and the athletes executed multiple compound exercises such as:
Bench Press

Back Squat

Vertical Jumping, etc.
This player's overall strength improvements carried over to his conditioning, specifically his skill work and endurance. The athlete had gotten faster and was able to complete more challenging skills such as endurance tasks and strength tasks at practices.
Boy, if I had some basketball personal training, I really could have stuck it to those 8th graders.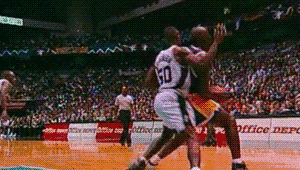 Getting Stronger Improves Your Shooting Accuracy
There are different ways to get off your jump shot. Klay Thompson shoots right from the mid-waist up while someone like Steph Curry starts from below the chest. The most important thing is to be able to bring the ball above your head and not shoot from your waist.
I wish I knew this in my middle school years….I can recall how atrocious my shot looked.
A study by Savas (2018) analyzed a group of male professional basketball players. They had these players undergo a 12-week basketball personal training program that involved 3 different microcycles (a new cycle every four weeks). This research group wanted to see if strength training would increase the shooting percentage for:
Free throws

Jump shots

Jump shots again defenders
After 12-weeks of strength training, the players had better accuracy or increased accuracy of their jump shots across the board. Man if I knew this and it only took me 12 weeks to get that strong I would have signed up immediately so I could have some range past the 3 point line. 
Strength Training Improves Athleticism and Confidence in Basketball Players
If you were a small kid like I was, it is easy to become discouraged against bigger players. You see all these players who are bigger, stronger and taller than you. These players can push you around and are sometimes just as fast and agile-no fair!
A study by Bayram (2016) analyzed the effects of a 6-week plyometric program on basketball skills (passing, dribbling, defensive position, vertical jump, etc.).  After the six weeks, their skills significantly improved, as well as their endurance. Another interesting note is the player's confidence also improved in 6-weeks! These changes were noted to show that the athlete wanted to work even harder in training. Having the confidence in your body allows one to push harder in workouts. With just 6 weeks with a basketball personal trainer, you are telling me that I can be a more athletic individual? Maybe I can actually get above the rim on a dunk unlike Steph in the video below. 
Conclusion on the Effects of a Basketball Personal Trainer
Seeing bigger basketball players can be tough. Luckily, improving strength is possible with a basketball personal trainer. Working with a basketball personal training can improve:
Strength
Endurance
Agility
Shooting accuracy
Speed
Muscle mass
Simply put, a basketball personal trainer can improve your on court skills, but also improve your overall strength and confidence.
If you want to improve your overall basketball game, then stop by COR! We would be happy to set you up with a sports specific expert and basketball personal trainer that will take your abilities to even greater heights!
If YOU are in the Bay Area, Apply for a Free sports performance screen
---
Justin Huynh graduated in the Spring of 2018 from the University of Puget Sound with a B.S. in Exercise Science. He is a Certified Personal Trainer through AFSA and is working towards his CSCS.
Justin grew up in the Bay Area where he attended Sacred Heart Prep. He swam for his high school team and for Palo Alto Stanford Aquatics under Tony Batis. During his college career, he walked onto the University of Puget Sound Swim team where he specialized in Butterfly, 400 IM and Middle Distance Freestyle. During his last year of college, he swam for the King Aquatic Club under Doug Djang and Michael Brooks.
Through his passion for swimming, Justin fell in love with dryland training and strength and conditioning as well as finding ways to help others. He interned at facilities such as the Riekes Center during the summers of 2015 and 2016 as well as Pacific TherX Physical Therapy in 2017. Justin has also had an article published for Swimming Science.  
Justin has finished his summer (2018) internship with COR and is looking forward to being a full-time personal trainer! During his spare time, you can catch him looking up new recipes or going on a foodie adventure as well as working out or going for a quick swim. The NBA season is Justin's favorite time of the year so don't be surprised if you find him watching his Golden State Warriors (he's sort of a die-hard fan) or attending a game at Oracle Arena.
---
References
1) Fulton, K.T. (1992). Off-season strength training for basketball. National Strength and Conditioning Association Journal. Retrieved from https://www.ncbi.nlm.nih.gov/pubmed.
2) Savas, S. (2018). The Effects of Rapid Strength and Shooting Training Applied to Professional Basketball Players on the Shot Percentage Level. Universal Journal of Educational Research. Retrieved from https://eric.ed.gov/?id=EJ1183946.
3) Baryam, M. (2016). The Evaluation of Strength Training and Body Plyometric Effects on the Male Basketball Players. Physical Education and Sport Science High School. Retrieved from https://www.ncbi.nlm.nih.gov/pubmed.